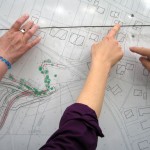 Neighbors and neighborhood associations play an important role in shaping Portland's land use and transportation. SE Uplift is here to support these efforts.
Land Use and Transportation Updates
A case for making traffic diverters the default design policy for greenways (bike boulevards) crossing arterial streets.
more »
SE Uplift's new Neighborhood Planning Program Manager, Leah Fisher, is spending her first days at SE Uplift meeting Land Use and Transportation chairs/representatives and conducting a review of the role and the Land Use Transportation Committee (LUTC).
more »
Sharing In Portland During a one-mile walk in the neighborhood, there is a lot to see. There's the neighbor down the street who rents her extra room to short-term visitors through an online service. There's the family with a little lending library, offering up old romance novels to passersby on the sidewalk. There's the coffee
more »
Portland's Comprehensive Plan Update is an Onion By now, you've probably heard something about the city's update to the Comprehensive Plan. This massive undertaking has been ongoing – in one way or another – for years now (roughly since 2007 if you count Vision PDX as part of the process). You've probably heard that is
more »
A large property that once had a 1920s bungalow and a generous vegetable garden has been replaced by two separate lots – each with a home much larger than the original bungalow – and each with much less garden space. This is not an uncommon occurrence in Portland these days. As our population grows, so
more »